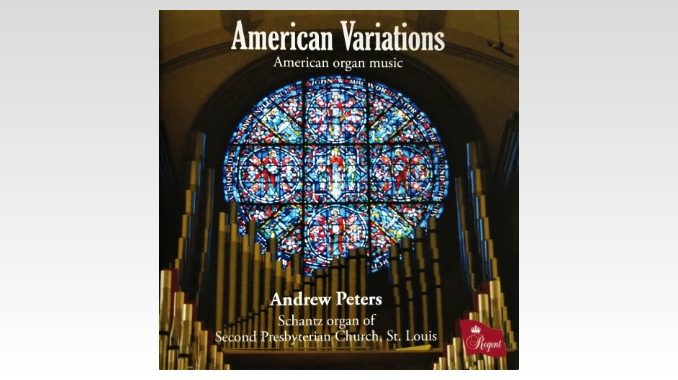 In de Second Presbyterian Church van Saint Louis (VS) staat een groot vierklaviers orgel ('60 ranks') uit 1965 van de firma Schantz, die het instrument in 2012 ook restaureerde. Andrew Peters benut het orgel ten volle in Amerikaanse orgelmuziek van de late negentiende eeuw tot heden.
Op het programma staan (uiteraard) de bekende variaties over 'The Star Sprangled Banner' van Percy Buck en Variations on 'America' van Charles Ives (met de roemrucht pedaalsolo 'as fast as the pedals can go'). Peters laat ook minder bekend repertoire horen, waaronder eerste opnamen van werk van drie vrouwelijke componisten.
Van Aaron Copland speelt Andrew Peters een eigen orgelarrangement van diens Passacaglia voor piano solo. Het is de enige transcriptie op deze cd, de overige werken geven een beeld van recente orgelcomposities uit de VS, gespeeld op een authentiek Amerikaans orgel.
Andrew Peters is organist en 'minister of music' van de Second Presbyterian Church in Saint Louis. Daarnaast is hij organist bij de Saint Louis Symphony en assistent-dirigent van het Metropolitan Orchestra van Saint Louis. Hij treedt regelmatig op als concertorganist en begeleider van stomme films.
---
American Variations
American organ music – Andrew Peters – Schantz organ of Second Prestyterian Church, St. Louis
Concert Variations on 'The Star Sprangled Banner' op. 23 (Dudley Buck); Prelude from Suite for Organ (Adolphus Hailstork); October Interlude (Clarence Mader); Passacaglia (Aaron Copland, tr. John Fesperman); Pastorale (Katherine Kennicott Davis); Rain Over the Quaker Graveyard from 'Views from the Oldest House' (Ned Rorem); March (F. Melius Christiansen); Finale from Suite No. 1 (Ulysses Kay); Four excerpts from 'Folk Hymn Sketches for Organ' (Emma Lou Diemer); In the Garden (Russell Peck); Fantasy and Fugue on 'Swing Low, Sweet Chariot' (Barbara Harbach); Variations on 'America' (Charles Ives)
Regent Records – REGCD508, TT 71'57, booklet 8 p. (EN), prijs £ 10,00 | regentrecords.co.uk