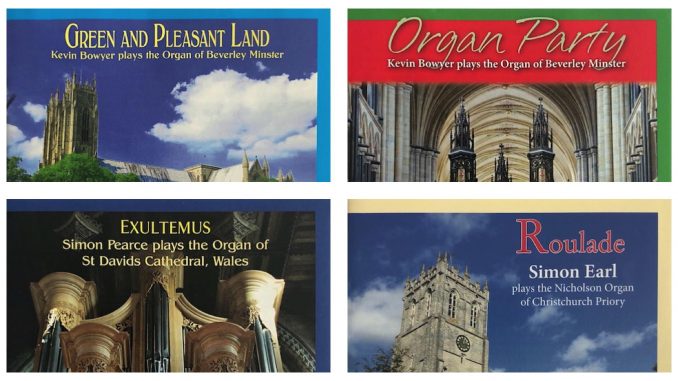 In de afgelopen maanden heeft het Britse label weer een aantal cd's aan zijn omvangrijke catalogus toegevoegd. Dit keer maar liefst vier opnamen van Kevin Bowyer en een drietal portretten van orgels in Wales en Engeland.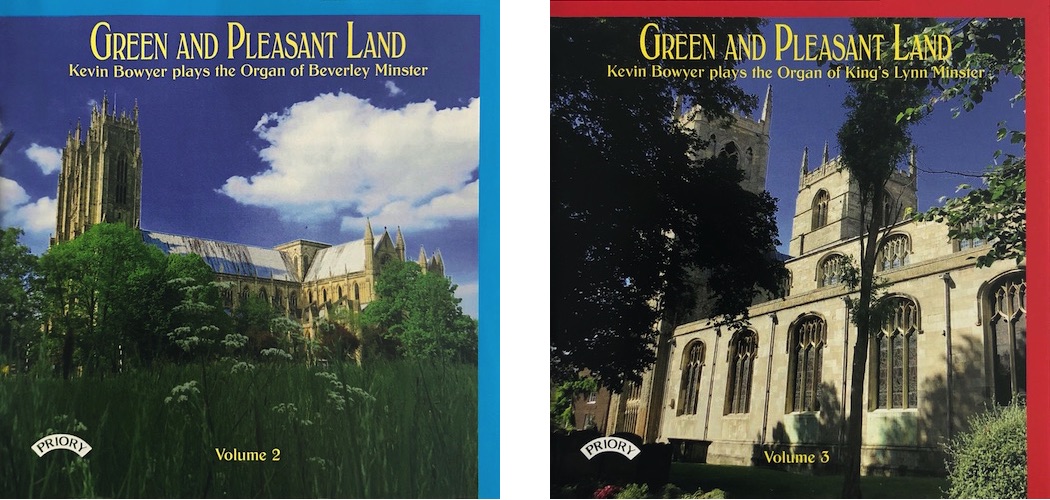 De cd Green and Pleasant Land die Kevin Bowyer in 2015 uitbracht heeft een vervolg gekregen. In korte tijd kwamen – heel enthousiast – de volumes twee en drie uit. En dat is nog maar het begin …
Bowyers project moet 22 delen gaan tellen waarin alle 363 orgelwerken worden vastgelegd die tussen 1900 en 1915 in het tijdschrift The Organ Loft werden gepubliceerd. De meeste stukken werden geschreven door gevestigde én aanstormende Britse componisten van die tijd, aangevuld met werk van een enkele buitenlandse of historische componist.
Voor deel twee van de serie reisde Kevin Bowyer af naar Beverley Minster. Voor deel drie werd neergestreken in King's Lynn (Norfolk). In beide munsterkerken werd overigens nog niet zo heel lang geleden ook al eens opnameapparatuur van Priory opgesteld.
Green and Pleasant Land – Volume 2
Kevin Bowyer plays the Organ of Beverley Minster
Coro Grandioso (George Frederic Vincent); A Child at Prayer (William Charles Mary Filby); Study in B flat (Bertram Luard Selby); Pavan (Oliver Arthur King); Meditation in A minor on an old French Noel (Edward d'Evry); Eventide (Berceuse) (Bernard Jackson); A Short Fugal Postlude (Edward William Healey); Grand Choeur Maestoso (George Clark Richardson); Allegretto grazioso (Henry Holloway); Short Piece in E flat (John Pullein); Postlude in F minor (Ambrose Probert Porter); Nocturne in E minor (Ernest Halsey); Dawn of Spring (Frederic John Kitchener); Postlude in A minor 9 Arthur George Colborn); Chanson (William Richard James McLean); Morning Song (Bernard Johnson); Cantaline in A minor (Ralph Driffill); Concert Scherzo in F (Purcell James Mansfield)
Priory Records – PRCD 1193, TT 80′, opname 5/2017, £ 11,99 | prioryrecords.co.uk
Green and Pleasant Land – Volume 3
Kevin Bowyer plays the Organ of King's Lynn Minster
Postlude alla Marcia (Harold Arthur Jeboult); Melodie in E flat (Frederick James Massey); Fugue in B flat (Robert Wilkinson); Prelude Archaique (Paul Joseph Hillemacher); Toccata in C (Revd. Andrew Freeman); Twilight Reverie (Roland Diggle); Andante Maestoso (George Coleman Young); Festival March (James Lyon); Pastorale (Eduoard Mignan); Grand Chorus (Harry Cracknel); Canzonet in B flat (Robert Bernard Elliott); Scherzo in F Op. 22 No.5 (Ernest Halsey); Cantilene Op. 25 (John Arthur Meale); Concert-Allegro in G Op.4 (Purcell James Mansfield); Choral Prelude (Johann Pachelbel); Postlude (Charles Edward Scott Littlejohn); De Profundis (Prelude) (Eugene W Wyatt); Elegy (Alan Gray); Sursum Corda Op.7 (Alec Rowley); Recessional March (Herbert Frederick Ellingford)
Priory Records – PRCD 1202, TT 79′, opname 1/2018, £ 11,99 | prioryrecords.co.uk
---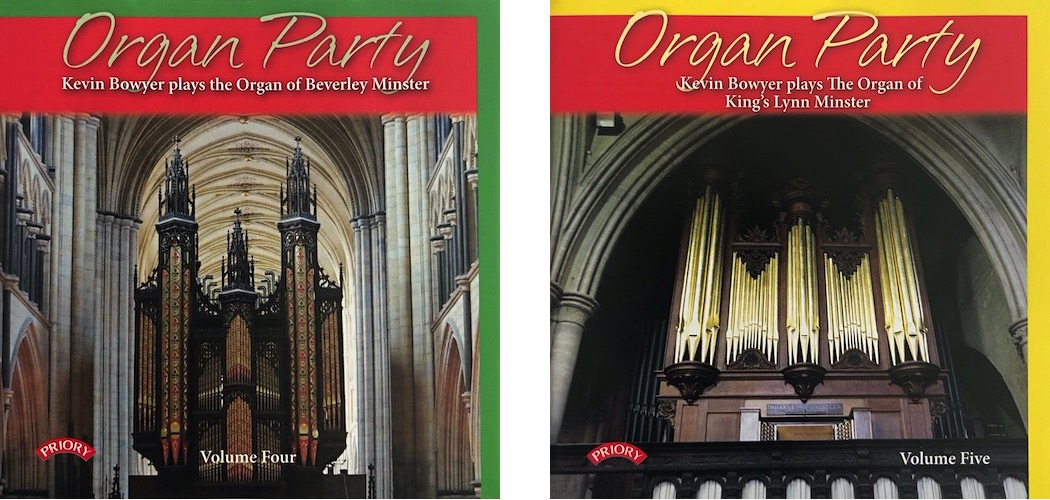 Nu we er toch zijn … waarom bouwen we geen feestje?, moet Kevin Bowyer gedacht hebben. Naast de cd's in de hiervoor genoemde serie Green and Pleasant Land maakte hij in Beverley en in King's Lynn aansluitend opnamen voor de serie Organ Party.
Ook in deze delen vier en vijf weet Kevin Bowyer weer veel onbekends uit de orgelliteratuur op te diepen. Feestelijke muziek, soms met een kwinkslag of glimlach, in het booklet voorzien van uiterst onderhoudende toelichting door de uitvoerende zelf.
Organ Party – Volume Four
Kevin Bowyer plays the Organ of Beverley Minster
Intrada (Alan Spedding); Three Short Pieces in English Genres (Stephen Burtonwood); Blues Prelude (Mons Leisvin Takle); Tá Prothúra (Harold Thalange); Les Cloches (Leonard Tubb); A Spong of Rejoicing (William G. Ross); Eucharistia (Ronald Watson); Fête de Chambard (Anthony Whittaker); Daguerrotype of an Old Mother (Harvey Gaul); Concert Toccata in D (Edward d'Evry); Wer weiß, wie nahe mir mein Ende … (Wolf-G. Leidel); Boogie-Toccata (Grimoaldo Macchia), A Whiter Shade of Pale (Procol Harum/arr. Paul Ayres); A Little Suite (Anthony Baldwin); March of the Bowmen (Frederic Curzon).
Priory Records – PRCD 1192, TT 79'36, opname 5/2017, £ 11,99 | prioryrecords.co.uk
Organ Party – Volume Five
Kevin Bowyer plays the Organ of King's Lynn Minster
Up with the curtain! (Jack Strachey/arr. R. Richmond); The Whistler and his Dog (Arthur Pryor); Bohemesque (William Wolstenholme); Celluloid Sketches Op. 103 (Charles Wels); Waikato March (T.S. Webster/arr. John Wells); Toccata Médiévale (Edouard Mignan); Elfentanz (Bernard Johnson); Triumphal Overture (Ernest Tomlinson); Jubilate Deo (Anthony Foster); Kinderlieder-Potpourri (Carl Robrecht); Park Pages (John Weeks); Trumpet Tune in E flat (David N. Johnson); Aspects of Bunessan, 1, 2 & 3 (Robin Erskine); Tightrope Prelude (Derek Nisbet); Young Spirit (Mons Leidvin Takle)
Priory Records – PRCD 1192, TT 71'35, opname 1/2018, £ 11,99 | prioryrecords.co.uk
---

Waar in een aantal Britse kathedralen het pontificaal op de koorafscheiding geplaatste orgel de blik oostwaarts vangt, springt in Llandaff (bij Cardiff) de 'Majestas' in het oog. Geen orgel dus, hoewel bij het ontwerp uit de jaren vijftig wel was bedacht dat in de 'ton' op de betonnen boog het Positive-pijpwerk moest worden gehuisvest. Nu is het zicht op Christus in majesteit, het in aluminium gegoten beeld van de hand van Sir Jacob Epstein.
Langs de zijwanden van het schip is aan beide zijden het Nicholson-orgel uit 2010 te zien. Met 80 registers op vier manualen en pedaal is het geen kleintje. Wie bij de aanblik van de orgelfronten moet denken aan het Grenzig-orgel in de kathedraal van Brussel, zit in de goede richting. Voor beide kasontwerpen tekende de Engelse architect Simon Platt. De dispositie verraadt onmiskenbaar Engels-romantische invloeden. Director of Music van de kathedraal, Stephen Moore, laat het orgel hier horen in voornamelijk twintigste-eeuws repertoire.
Deo Gracias
Stephen Moore plays the Nicholson Organ of Llandaff Cathedral
The Canon's Fanfare, Elegy in memoriam H.W.S., Fanfare for the Bride, Paean Oxoniensis (Spicer); Contemplation (Edwards); Passacaglia on a Theme by Dunstable (Weaver); Le jardin suspendu (Alain); Cortège et Litanie, Op. 19 No. 2 (Dupré); Prelude on 'Were your there?' (Sowerby); Toccata on 'Victimae Paschali' (Quinn); After an Old French Air, Pazienza, Dolcezza (Whitlock); Passacaglia for Francis Jackson (Carter)
Priory Records – PRCD 1199, TT 78′, opname 11/2017, £ 11,99 | prioryrecords.co.uk
---

Het orgel van de kathedraal van St. Davids in Wales is in eerste aanleg van Father Willis uit 1883. Het begon met 32 stemmen, waarna het een groot aantal wijzigingen onderging, zoals de uitbreiding met 32-voeten op het pedaal en een aangepaste orgelkas.
In 2000 werd het orgel grondig aangepakt door Harrison & Harrison (die naam komt vreemd genoeg niet in het booklet voor). Samen met de 31 resterende Willis-registers ontstond een 54 stemmen tellend vierklaviers orgel, geplaatst in een vernieuwde kas met geheel nieuw West Positive.
Simon Pearce, Assistant Director of Music van St. Davids Cathedral, heeft een compleet Welsh programma samengesteld. De componisten zijn in Wales geboren, hebben op een of andere manier een connectie met Wales (Nicholas Jackson, voormalig Director of Music) of de muziek heeft een band met het land (Vaughan Williams' Preludes on Welsh Hymn Tunes)
Exultemus
Simon Pearce plays the Organ of St Davids Cathedral, Wales
Mysterium Fidei (Geraint Lewis); Four Images for Organ (Nicholas Jackson); Dawn (Cyril Jenkins)l Antiphonies Op. 88 no. 2 (Mathias); Suite for organ (Meirion Wynn Jones); Three Preludes founded on Welsh Hymn Tunes (Ralph Vaughan Williams); Little Rhapsody on the Birth of St David (from Divertissement) (Nicholas Jackson); The Minster Rings (Geraint Lewis)
Priory Records – PRCD 1222, TT 75′, opname 10/2018, £ 11,99 | prioryrecords.co.uk
---

Nog een Nicholson-orgel, nu dat van Christchurch Priory in het graafschap Dorset. Ook geen bescheiden instrument, gebouwd in 1999 en uitgebreid in 2000 en 2016; met 72 registers een van de grootste orgels in Zuid-Engeland.
Simon Earl mag zich sinds 2015 behalve vaste bespeler van het orgel ook Director of Music en Master of the Choristers van de voormalige kloosterkerk noemen. Hij demonstreert de Nicholson met een toegankelijk programma van klassiekers uit het Engelse orgelrepertoire, transcripties en nieuwer werk.
De cd ontleent zijn titel een werk van de Amerikaanse componiste Seth Bingham. Roulade is een virtuoos, scherzo-achtig werk waarin de invloed van de Frans-symphonische stijl duidelijk aanwezig is.
Roulade
Simon Earl plays the Nicholson Organ of Christchurch Priory
Trumpet Tune (Carter); Elegy (Bairstow); Adagio for Strings (Barber); Rubrics (Locklair); Penguins' Playtime (Ogden); Folk Tune (Whitlock); Variations sur 'Amazing Grace' (Bédard); Rhosymedre (Vaughan Williams); Danse Macabre (Saint-Saëns/arr. Lemare); Roulade (Bingham); Fantasia and Toccata in D minor (Stanford)
Priory Records – PRCD 1209, TT 76′, opname 10/2018, £ 11,99 | prioryrecords.co.uk